IMPORTANT: Due to COVID-19 safety measures, the Financial Aid Office is available to provide limited services (see hours below). Financial Aid staff is available to assist students face to face Mon-Thur and remotely on Friday. You can call (530) 661-5725 or email WCCFinancialAid@yccd.edu. Please note: response times may be delayed due to remote connectivity, and you may be asked to use Zoom to verify identity.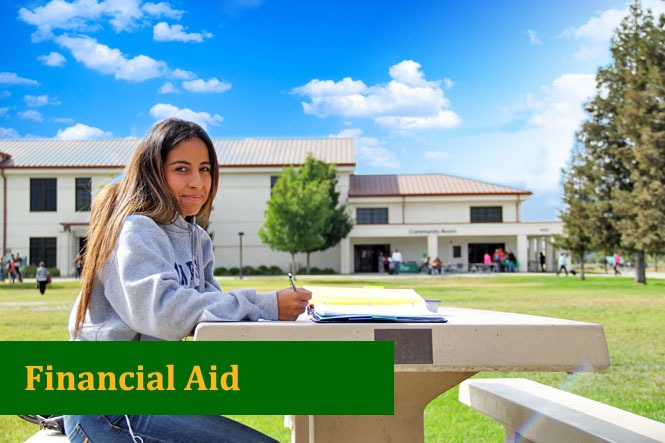 Welcome to Financial Aid
Our goal is to assist you in bridging the gap between your own resources and the cost of attending college. We offer assistance with completing applications and providing information about the requirements of the various financial aid programs. Financial aid consists of federal grants, work study, state grants, fee waivers, and outside scholarships.
---
FAFSA – start here to apply for financial aid
Use the Free Application for Federal Student Aid (FAFSA) online to apply for
campus-based aid and the Pell Grant. List Woodland Community College as the college of choice, the federal code number is 041438.
CADAA – start here to apply for financial aid, if you are not eligible for the FAFSA
Use the California Dream Act Application (CADAA) online to apply for
California state financial aid. List Woodland Community College as the college of choice, the school code number is 041438.
---
FEE WAIVER CHANGES – California College Promise Grant Changes
Beginning the 2018/2019 aid year, the Board of Governors Fee Waiver (BOG) will be called the California College Promise Grant.
Attention Students: Don't lose your California College Promise Grant!
The California College Promise Grant is now based on minimum GPA and course completion standards! (W's/NP's)
Starting Fall 2016 semester, your grades will be used to determine CC Promise Grant. Due to a change in state law, students will need to sustain a GPA of 2.0 or higher and complete 50% of coursework to maintain CC Promise Grant eligibility. If your GPA falls below a 2.0 and/or cumulative course completion is less than 50% for two consecutive primary terms (fall/spring), you may lose your CC Promise Grant.
Please visit the Financial Aid or Counseling Office to find out more about how you can keep your education on track. You can also make an appointment to see a counselor by calling: 530-661-5703 or by scheduling an appointment online through WebAdvisor.
---
Financial Aid Disbursement
Financial aid disbursements are made to students based on the semester payment schedule available under Important Resources. If you anticipate to receive financial aid from Woodland Community College (not including the California College Promise Grant, fee waiver), we have partnered with BankMobile to deliver your financial aid refund. For more information about BankMobile, visit this link: http://bankmobiledisbursements.com/refundchoices/
To make your Refund Selection Preference, please visit BankMobile's Refund Selection page
To view our institution's contract with BankMobile, a Division of Customer Bank, click here.
For questions or concerns regarding Woodland Community College financial aid disbursements, you may review the Financial Aid Guide available under Important Resources.
---
SAP – Satisfactory Academic Progress
Grades and completion of attempted classes impact your eligibility for Financial Aid! Check our the Academic Progress (click here) page for details.
Keep a 2.0 GPA, and complete all courses attempted to maintain pace of 66.65%.
Complete all academic program requirements within 150% of normal time.
Submit semester appeal by the deadline, and know where to get progress report forms and when they are due if your appeal is pending progress reports.
Review Self Service Student FA Information page for your SAP details.
---
Contact Information
Phone: (530) 661-5725
Fax: (530) 661-1571
Financial Aid Office – Office Hours:
| Day | Hours |
| --- | --- |
| Monday | 8:00 am to 6:00 pm |
| Tuesday | 8:00 am to 6:00 pm |
| Wednesday | 8:00 am to 5:00 pm |
| Thursday | 8:00 am to 5:00 pm |
| Friday | 8:00 am to 5:00 pm (remote service only*) |
*Due to COVID schedule adjustments, the campus is closed on Fridays.
Campus Location: Building 700, across from Admissions and Records
Financial Aid Office Staff:
| Name | Title |
| --- | --- |
| Kimberly Reed | Director of Financial Aid |
| Becky Reyes | Financial Aid Fiscal Support Technician |
| Stanley Silsby | Financial Aid Technician – Lake County Campus |
| Juan Gomez | Financial Aid Technician |
| Conor Rowell | Financial Aid Technician |
---
Financial Aid Basics