WCC Financial Aid Has Gone Mobile!
---
Steps To Complete Your Financial Aid File
Step 1
Log into Self Service Financial Aid
Log on to Self Service Financial Aid using the student portal https://login.yccd.edu
Step 2
Navigate to Required Documents
From within Self Service Financial Aid, navigate to Required Documents
Step 3
Resolve 'Incomplete' Items
Required Documents marked 'Incomplete' must be resolved prior to financial aid file completion. Click on details of incomplete items for instructions, forms, and links necessary to complete requirements.
---
Step 4
Create StudentForms Account
If directed to StudentForms to complete required documents, you will be asked to create an account upon your first access to the mobile system using the name you used on your financial aid application along with your Social Security Number and date of birth and other demographics. These items MUST match your financial aid application data to successfully create your account.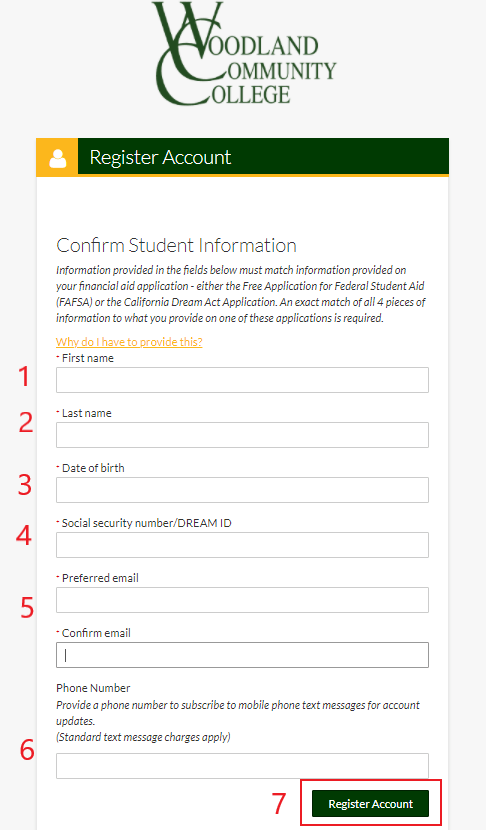 2022 - 2023 Financial Aid Forms
Dependent and Independent Verification
View forms required to complete your financial aid file in Self Service Financial Aid, Required Documents. Links to mobile forms coming soon!
Review Self Service Financial Aid, Home, for remaining steps to complete your financial aid file.
2023-2024 UPDATE:
The Department of Education IS NOT waiving income verification requirements for 2023-2024. Students selected for verification must complete the verification process prior to receiving financial aid, except the CC Promise Grant. FAFSA applicants selected for verification maybe required to verify 2021 income information, Statement of Identity and Educational Purpose, or both. Notification of verification to complete is provided on the Student Aid Report received from Department of Education after completing the FAFSA.
Income verification relief is applicable to the 2021-2022 & 2022-2023 years ONLY.
Satisfactory Academic Progress
2023-2024 SAP APPEAL DEADLINES
Fall 2023 - 11/10/2023
Spring 2024 - 04/26/2024
Summer 2024 - 06/27/2024
To file an SAP Appeal for 2023-24, view appeal page for details.
California College Promise Grant
CCPG Application Instructions
CCPG Method B Income Standards
CCPG application - Spanish
CCPG application - English
Loss of CCPG Appeal Form
2022-23 CalVet fee waiver
If you qualify for CalVet fee waiver, submit your CalVet fee waiver eligibility letter to the FA Office in person or by email - WCCFinancialAid@yccd.edu. A supplemental information form is required to award your CC Promise Grant. After receiving your eligibility letter, the FA Office will notify you via email the link to complete the online supplemental form.
Professional Judgement
Finances change significantly since filing your FAFSA or Dream Act application? In some cases, the Financial Aid Office may be able to make adjustments for loss of income, death, divorce or separation of a parent or spouse, or unusually high medical bills, among others. Contact the Financial Aid Office here to see if you qualify for a Professional Judgement.
Request to Update FA Award(s)
Need to decline one or more financial aid awards offered, or reinstatement previously declined financial aid award(s)? Contact the Financial Aid Office here to submit an award change request.